Why Reportal Is Awesome
---
Described in its simplest form, Reportal is an online reporting tool for businesses. It has been designed to streamline the day to day processes of your company by digitising your businesses forms and reports. As you are aware, the process of writing out documents, scanning them and attaching separate media files is a massive hassle. However, with Reportal, this process is a thing of the past! Using our handy builder, you can construct digital forms that your staff can complete via the Reportal mobile app. Each form can be fully customised to include all of the information you need to collect. The best part is, as it's on the cloud, you can make changes to the report at any time and the update will be rolled out to your staff immediately!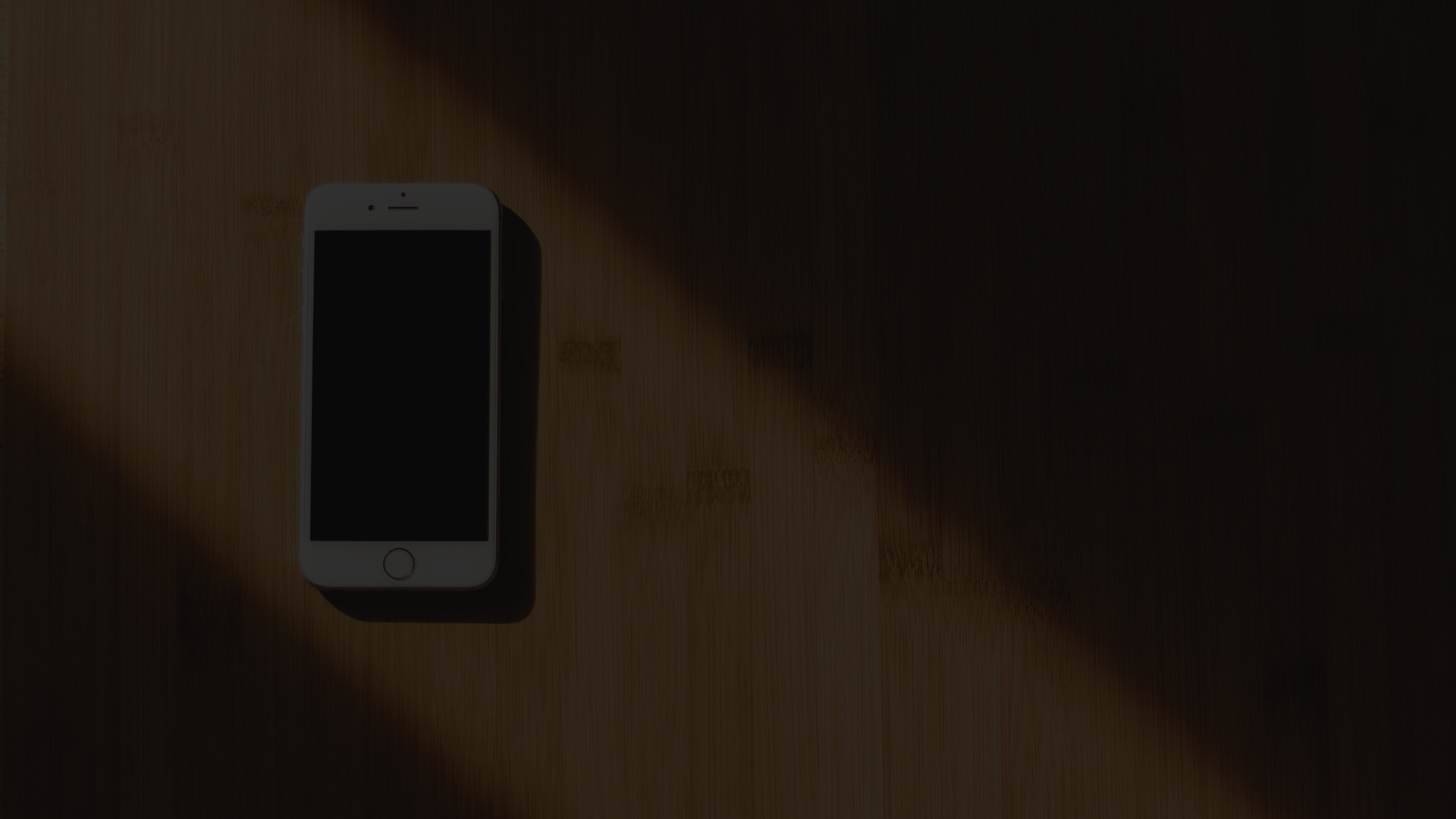 Want to see how Reportal can benefit your business?
If you are curious as to how Reportal can improve your business, why not try it out for yourself? We offer a 14 day free trial to every new member. To get started, all you need to do is register an account with us. During the trial, you will have full access to all of Reportal's features and can upgrade at any time. So, what are you waiting for?
Our Pricing Packages
---
We offer affordable membership packages to suit companies big and small. Each of our packages offer full access to all of Reportal's features and, the best part is, you only pay for the number of users that you require!
Free Trial
Free
---
For 14 Days
Basic
£14.99
---
Per User Per Month
Professional
£16.99
---
Per User Per Month
Enterprise
£19.99
---
Per User Per Month
Key Features of Reportal
Reportal is packed full of different features, each has been carefully designed to make each process as simple as possible.
Code-free, Drag & Drop Form Builder
Construct forms and report templates with ease, our builder makes it easy to define the data required for submission and how the final result will look.
Complete Control Over Your Data
Once subscribed the tools of the software are at your disposal, you don't need to ask permission or pay additional fees to update a form or view reports.
Offline Reporting Whilst On The Go
Once a report has been downloaded, it's stored to the device. This means that your staff can complete reports regardless of their network connection.
Staff Resources Anytime & Anywhere
Documents and images can be uploaded via the portal and downloaded to a device for viewing offline, you can even categorise files to make them easier to find
White Label Your App & Documents
Our favourite feature of Reportal is the fact that it can be branded to match the colours and logo of your company; therefore once logged in, the app will feel like your own.
Centralised Storage & Backup Of Data
All uploaded files and reports submitted by the app are stored safely within the admin portal. We take care of backups to ensure that your data is protected.
More Accurate Data Through Multimedia
Each report can allow the capture of images, video, audio and geolocation if required. Once submitted, all of the data is collated into a single report and stored.
Emails, Notifications & PDFs
Each time a report has been submitted you will receive a notification via email. If required, Reportal can also generate a PDF copy of the report for download.
How It Works
The process of getting up and running with Reportal is pretty simple; all you need to do is follow the steps below. However, if you do need more support, please visit our support page for additional videos and FAQs.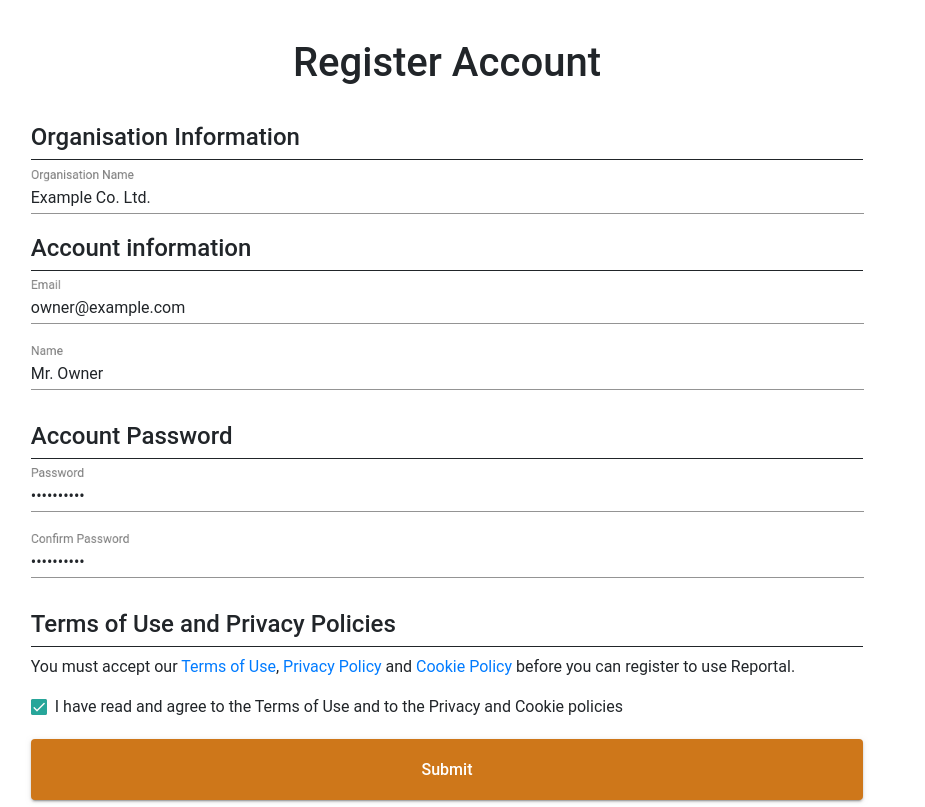 1
Create an account
Creating an account is simple: register your name, email address and organisation name
here
and we will send you a confirmation email. Once your account has been activated you will have full access to Reportal whilst your trial or subscription is valid.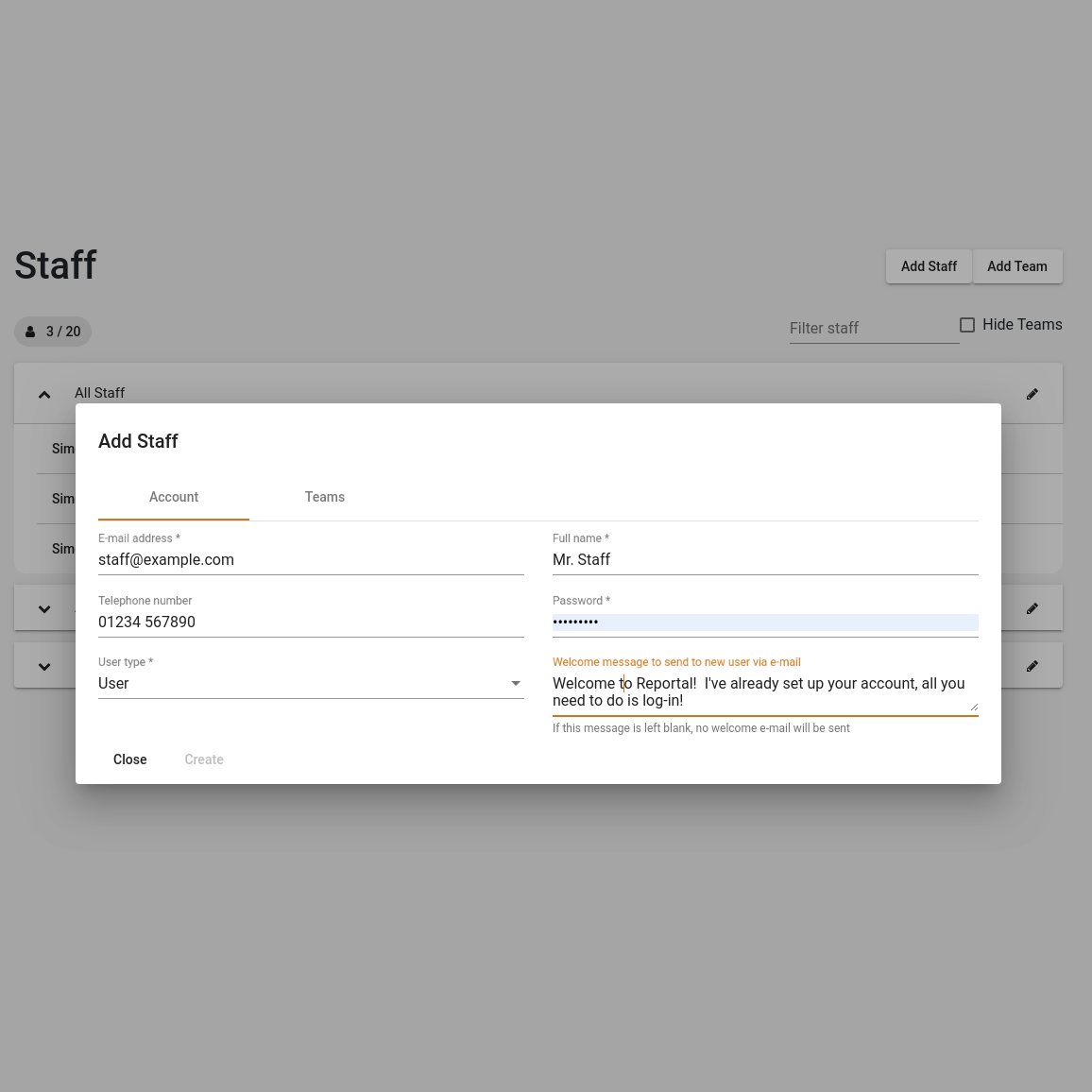 2
Invite your staff
If you want to invite your staff to use the software, all you need to do is register them via the staff panel in the dashboard. Simply enter their name, email address and password; once submitted, their account will be created and they will be notified by email.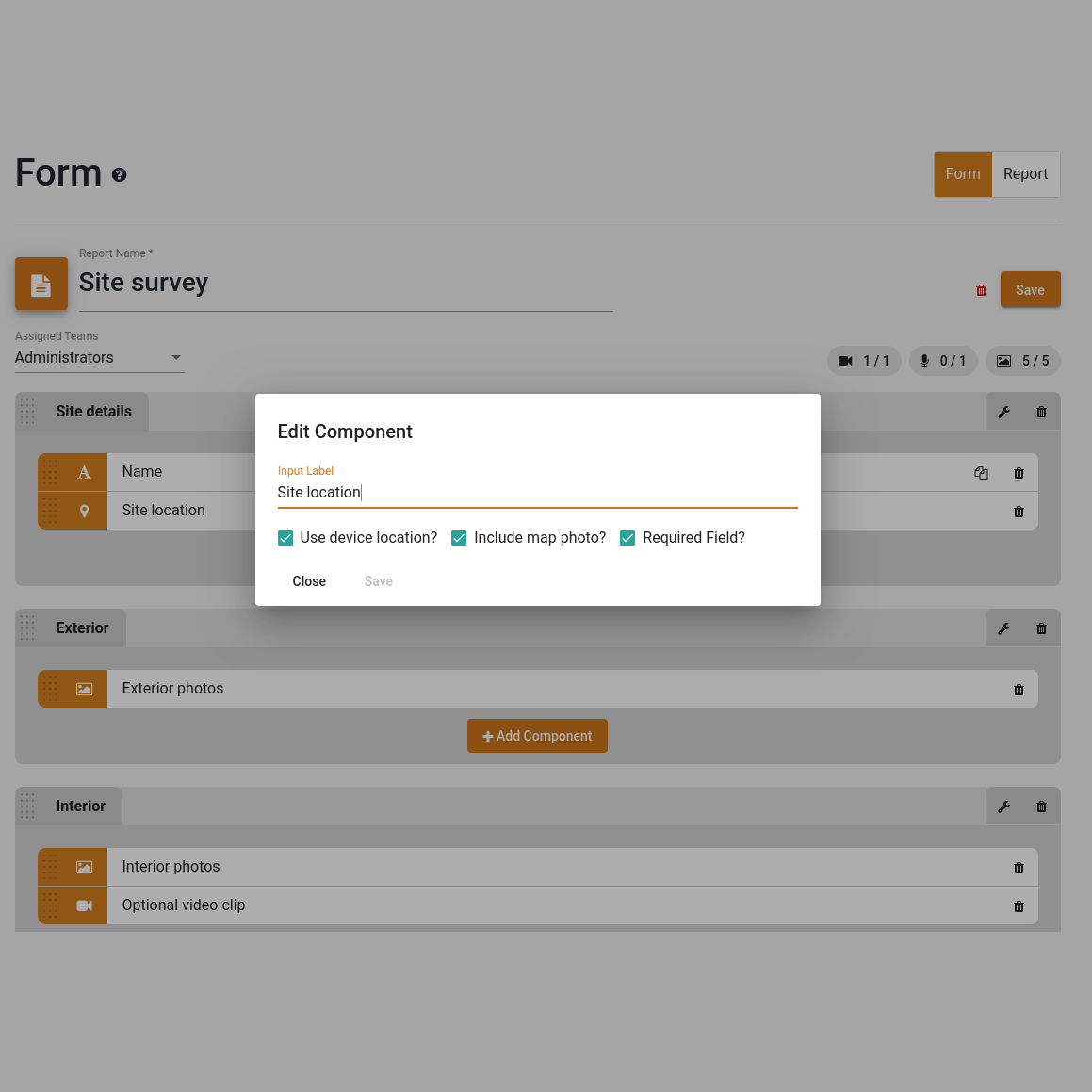 3
Build your reports
Using the drag & drop builder, you can define the data needed for your report: fields can be set to capture text, email addresses, images and can even provide multiple choice options. Once the form is complete, you can start defining the structure and style that the submitted report will take with ease.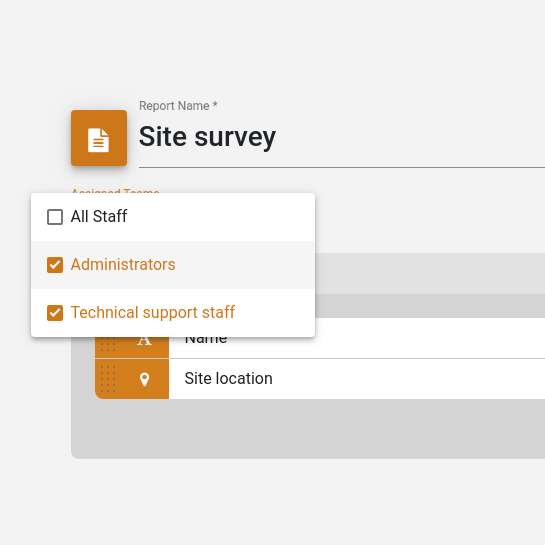 4
Assign to staff
Once your reports have been created, you can begin assigning them to teams. If you would like the report to be available to everyone, simply assign the report to a public team. Otherwise, you can limit certain reports to a specific team to keep things tidy.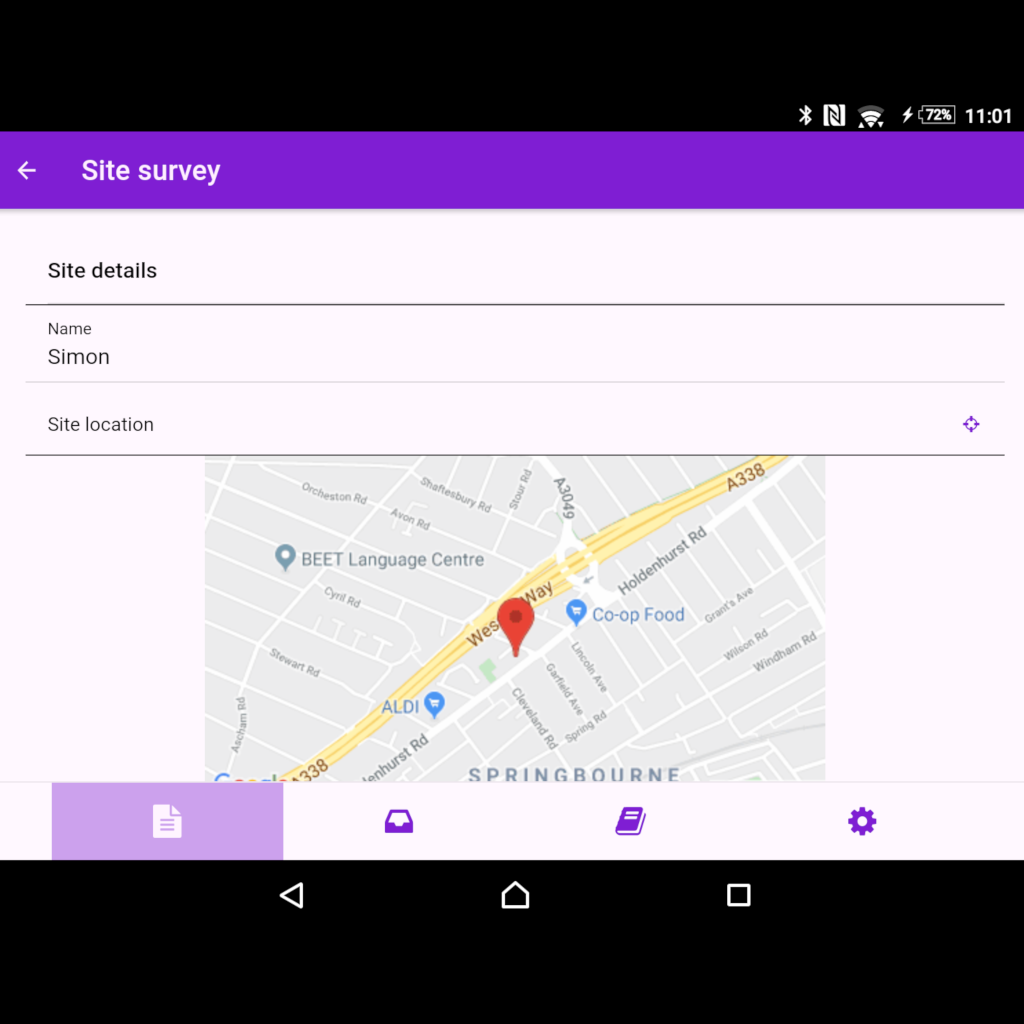 5
Complete & submit reports
Staff that have logged in to the mobile app will be able to see all of the reports assigned to their team. Once opened, they will be required to fill out the fields specified during the build process. Once the form is complete, they can go ahead and submit it.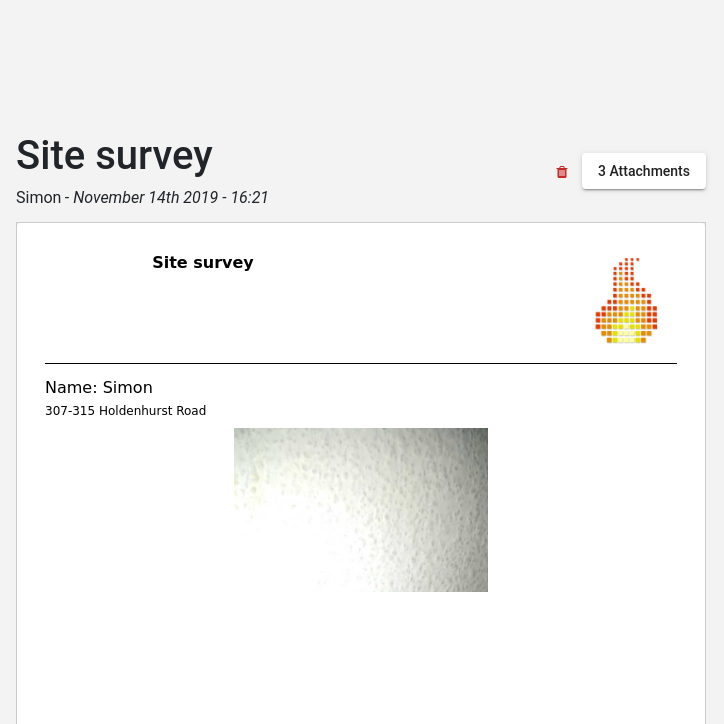 6
View report in Reportal
All reports submitted by members of staff will appear in the inbox page of the admin dashboard where they can be filtered by staff, date and report type. Once opened, all contents of the report will be visible and additional attachments can be downloaded.